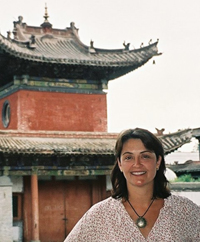 Janice has more than 25 years experience in news, news production and writing. She has traveled to all seven continents, producing news, news features, documentaries and industrial videos.

Her topics have ranged from breaking news to political to scientific explanations and travel features. Her work has appeared on ABC, NBC, CBS, CNN, Fox, The Hallmark Channel And the Travel Channel – including the popular "Bizarre Foods with Andrew Zimmern."

She spent 13 years producing projects for CNN Newsroom, an international news program designed for use in the classroom. The material was award winning and compelling, including a Gracie Award for "Inside Your Brain" and a Gold Medal at the New York Film Festivals for "Jason's Journals: Israel" and eight Emmy nominations.
A prolific writer, Janice has authored "The Varsity" for Arcadia Publishing as well as co-authoring "The Myrtle Beach Pavilion" and "Aiken" for Arcadia. Her travel books include "Daytrips from Atlanta," "Insider's Guide to Atlanta" and "Insider's Guide to Myrtle Beach and the Grand Strand" for Globe Pequot Press as well as The Bruges Walking Guide," Janice contributes regularly to a variety of magazines, newspapers and websites. Her articles have appeared with: the Christian Science Monitor, WebMD, the Charlotte Observer, travelgirl , Atlanta Style and Design, Carolina Homes and Interiors, The Sunday Paper, Delta Sky and many others.
Janice is efficient, resourceful, creative and has the proven ability to handle all facets involved in producing complex material.